We are always updating and expanding this site, keep coming back. Let me know what information you would like to see.
Have you always wanted to make your own Longbow (and Arrows!) and learn how to shoot using the equipment you made? Yes! Then you have something in common with me.
I started out (a long time ago!) making my own Longbow because that is what I wanted to shoot with, my boyhood dream of becoming like my hero, Robin Hood, coupled with the scant availability of `off the shelf` Longbows meant I had to have a go at making my own!
I started out using the garage as a workshop, never to house a car again!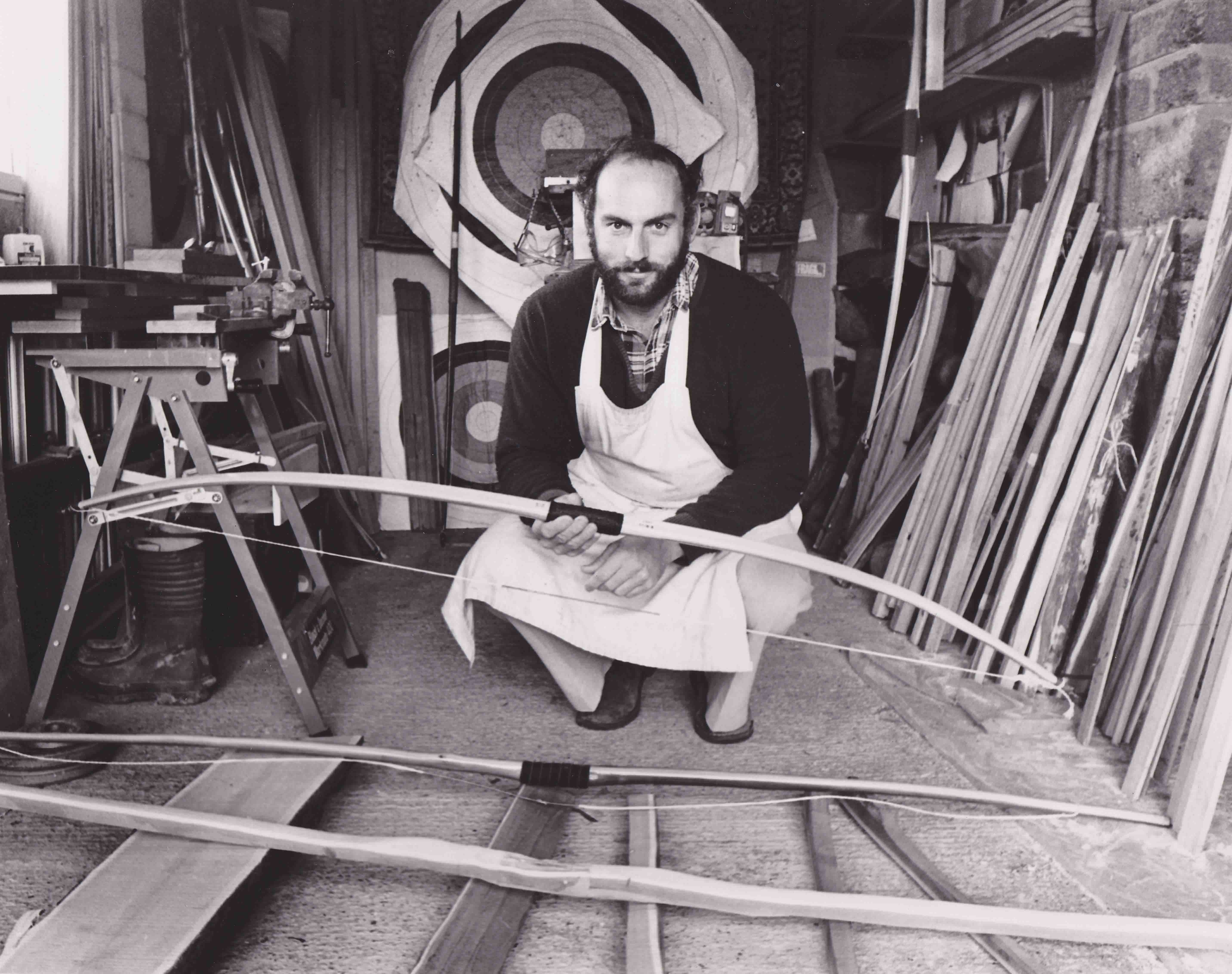 Eventually turning my new hobby into a full time business, my son, Philip and my wife, Lindsay, joined me in the business, Philip became the first Bowyer apprenticed to his father for hundreds of years. For the past few years Philip and myself have been making videos on the various aspects of Bow and Arrow making, trying to pass on my 35+ years of experience to a wider audience, passing on the knowledge to people like you! Here we present those videos, over time we will regularly update the page with written guides and pictures explaining processes you request to see, hopefully building this page into a repository of all the Longbow making skills you will need. Keep checking back to see new info as its added and subscribe to our YouTube channel and join us on Facebook.
WE NEED HELP!
The website you are on now costs me money, yes, if you have never owned or run a website before you may not realise this.
Our aim is to collect the knowledge/experience Richard has gained over the years, the very same information he has been imparting to Philip, also to preserve it for years to come, this includes making instructional videos. However, we cannot afford to do this without your help, time making the videos and website is time away from the workshop, also, as I mentioned, the website is surprisingly expensive per month. We were hoping, perhaps naively, that we would become YouTube stars and it would all pay for itself, sadly not.
So we have taken the decision to set up a `donate` button, if you feel you are able to help with the monthly costs to keep this resource online and expanding with more videos/content then please use the donate button below, you can donate as much or as little as you wish, its a `one off` donation, we wont hassle you or anything like that...thanks for helping us, it means a great deal.
https://paypal.me/richardheadlongbows?locale.x=en_GB
If you have sought out this site, then chances are you already know what a Longbow is or at least what it means to you, there are many types of Longbow and many ways to make one. We specialise in making the English Longbow, essentially a Victorian recreational and sporting bow, a bow once used by Archers in the Olympics, a bow very different to that of its Medieval forebear. This is the type of equipment we will be concentrating on, though we cover many time periods and bows throughout the range of our instructional videos, so you will be able to glean a good taster of many disciplines. A very popular pastime and sport in the Victorian era, the Longbow was also popular with ladies, one of the few sports at the time where woman could compete and take part in the same events as the men. Often an elegant and beautiful item of sporting equipment, handles made with elaborate materials and designs, if you get a chance to see some original Victorian bows then do. The following videos show nice close ups of the finished product, the completed English Longbow, take a look.

We have broken the process down into easily digestible chunks, if you are using a laptop computer you will see a menu over on the left, if you are on your phone/tablet you will see a menu button at the top of the page. Either place will show you a number of parts, probably best to start with part 1, but, maybe you have a particular subject in bow making you want to look at, well, you can jump to that section straight away. I hope you like our little lessons and find them useful and inspirational. Starting anything new can seem daunting, but if you go slowly, one step at a time you will lose those fears and soon be on your way. The information we give you here is by no way exhaustive, there are many aspects of bow making we haven't got round to filming yet and we dont know everything! There are many other makers out there offering advice, telling you how to do it, we do not claim to be THE experts, we do not claim to be definitive, take everything you here with a pinch of salt, after all, this is the internet!